AC DRIVE CONTROLLERS
AC Drives and AC control circuits are considered to be part of the high tech electrical controls market. Even the more straightforward AC controllers involving contactors, starters, timers, metering and relay logic can become quite technical.
Knowing what is going on with the demands on your electrical machinery through first hand knowledge and visual inspections can save you a lot of headaches and downtime. Therefore, the importance of using solid state monitoring devices that send valuable information to your electrical maintenance office or provide you with visual information on the door of the cabinet cannot be underestimated in keeping your equipment up and running & making money.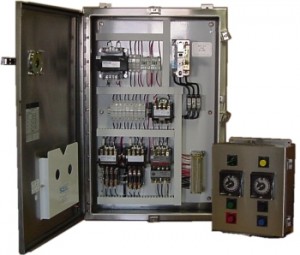 A customized AC Controller from an industrial controls supplier, like Power Formers Engineers, can provide you with all the required components from, programming of the PLC, touch screen controls, simple starter or contactor cabinets, all customized for your unique needs.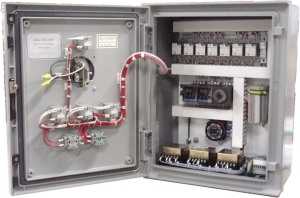 All down stream electrical auxiliary equipment controls, such as hydraulic pumps, air pumps, solenoid vales, exhaust fans and blowers can be packaged in a single enclosed control system.
For MCC (Motor Control Center) AC Controller applications, Power Formers Engineers can add interconnect wire harnessing, PLC sections, and help with engineering and commissioning.
From the basic starter panel, to the complex control system, Power Formers Engineers is prepared to work with you, to provide the controls needed to improve the preformance and production of your manufacturing machinery needs.
More AC Drive information…